There are lots of films worth seeing this weekend, and a double feature might be in order.  You'll find links to my reviews by clicking on each title.


The Artist


Now in theaters:


* The Secret World of Arrietty just hit theaters. It's a reflective, visually stunning film that moves at its own pace yet touches the heart and delights with humor thanks to the comical voice stylings of Amy Poehler and Carol Burnett


* The program of 2012 Oscar-nominated animated shorts is still in theaters.  If you've always been curious about this category at the Academy Awards, you'll want to check these out (Note: Not for kids under 13)


*  If you are in an artsy mood, consider seeing the Oscar-nominated The Artist, a highly charming and innovative black-and-white silent film about a Hollywood actor's struggle to transition to talkies


* Check out Hugo, a wonderful 3-D movie that is riveting with its dynamic camera skillfully and lovingly directed by Martin Scorsese. Nominated for 11 Oscars


* Beauty and the Beast in glorious 3-D is still in theaters.  For a fun afternoon out with your little princess, this might be just the ticket


For your at-home viewing pleasure:


* Need a great film for your family movie night? How about Lady and the Tramp, just released in a stunning Blu-ray edition?  This classic is sure to be a favorite for dog-lovers, and is worth seeing for the romantic scene in which the two star-crossed dogs share a plate of spaghetti.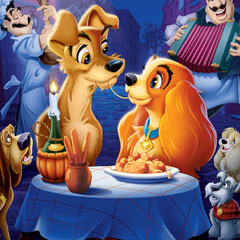 Lady and the Tramp


* Another breathtaking classic to consider for your family movie night is The Black Stallion.  The film isn't fast-paced, but the story is engaging, the photography is gorgeous, and the scenes of the boy bonding with the horse on the remote island shores are beyond words.


* Need a romantic movie for your date night?  Midnight in Paris just might fit the bill.  Romantic, nostalgic, and hilarious, it's the best film from Woody Allen since Bullets Over Broadway.  Also an Oscar contender and my top pick for the best film of 2011.